Health & Social Care Research Across North East & North Cumbria.
Annette's Research Story
Annette's Research Story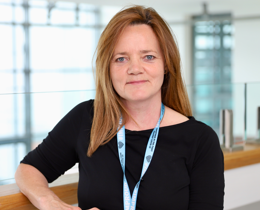 Annette Hand says...
"I have continued an active research role and have been involved with multiple research studies at a local, national, and international level and have also published multiple peer reviewed articles".
On this page
How did you get started in research/what inspired you?
One day whilst working on a ward I met a patient who was involved in drug trial involving a now well-known medication for Parkinson's - the response to that was amazing and a real 'awakening' experience for me. From there I badgered the consultant, who specialised in Parkinson's, to see if I could work more closely with him and his team. My first post within the Parkinson's specialty was as a Parkinson's research nurse, that was over 27 years ago. Although I moved onto more clinical roles within Parkinson's I have always remained research active. 
What do you enjoy about research?
The positive impact it can have on patient outcomes, services and on job satisfaction. We have no cure for Parkinson's, but there is still so much we can do to support people living with Parkinson's, and their families. Research answers the questions that we have about furthering our understanding of this complex condition, and how we can improve care and treatments. 
What training and support have you found most valuable in your career?
Undertaking some formal research training, via a post-graduate diploma in clinical research, was helpful as it gave me a good overview of research in practice. I also found completing my doctorate incredibly useful, as it gave me time to explore methodologies and theories in research. For me, my training in research has never ended. I continue to seek out opportunities, either via formal or informal routes, to expand my knowledge and skills as a researcher. There are some great resources and courses out there, and the NIHR/CRN and Newcastle Health Innovation Partners are great places to start. 
What people/organisations did you get in touch with to help you?
I have been very lucky to work within very research active teams, and with people who are also passionate about research. This has provided multiple opportunities to develop my research skills, knowledge, and confidence. Team members have been very supportive of my research activities, and I have had some fantastic research role models and mentors. The NIHR has also been incredibly helpful in supporting/funding some of my research training and development and supporting my clinical academic journey. I have also been very fortunate to receive several research awards, Greenshoots for example, to ensure I have dedicated time for research in practice. I am very fortunate to work within the Newcastle nursing, midwifery and allied health professional (NMAHPs) research team, where we support building capacity and capability across the NMAHP professions.  Trying to protect time for research in practice or develop a clinical academic is not something you can do alone so make sure you reach out and get the support you need.
Add your feedback
There was an error submitting your feedback, please try again.
Thanks for your feedback, this will help our team improve your experience on the website