Welcome to Routes to Research
Helping health and care staff in the North East and North Cumbria support research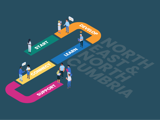 Research is about improving outcomes for people and there are many ways we can all get involved. This guide, created by staff for staff across our region, will help you find the best ways to get involved - a launchpad to discover more!
 Finding your route to research
Do you work in the NHS, public health or social care?

Are you interested in improving outcomes for the people or populations you serve?

Are you interested in finding out more about the varied opportunities in our region to get involved in research?
Then explore these routes to research to see what works best for you.
Add your feedback
There was an error submitting your feedback, please try again.
Thanks for your feedback, this will help our team improve your experience on the website