Health & Social Care Research Across North East & North Cumbria.
"Working with industry" course
Sign up to the "Working with industry" course
You can also enrol onto the NIHR Learn course "working with industry", which is aimed at delivery staff and principal investigators who are interested in delivering a commercial study. The course explains the importance of working with industry, what a great study site looks like, what to expect during a commercial study and how to access support and current opportunities.
Participants will need to have an NIHR Learn account to access these courses. Information about NIHR Learn, including how to access the platform, can be found in the NIHR Learn help pages.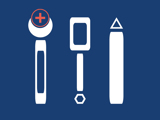 Add your feedback
There was an error submitting your feedback, please try again.
Thanks for your feedback, this will help our team improve your experience on the website